Warmth and Weightlessness: Nikomu, Aurora, Ekam Sat, and Autism.
(fragment)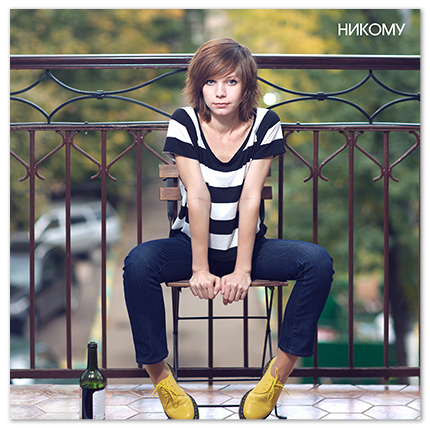 Alena Sergievskaia of Nachalo Veka and Nikomu (Volgograd)
One of the peculiarities of Russian popular music is the enduring influence of a folk heritage. Not only does it appear regularly within the fabric of primetime pop songs, it also has the ability to shoulder the more serious and often intellectual concerns of domestic rock. Straddling the gap between charm and considerable volume are bands such as Nachalo Veka. They are from Volgograd, an industrial address better known as Stalingrad for much of the twentieth century. A location associated with epic warfare and/or production quotas would not seem the most logical home for a folk-rock ensemble, yet if we leaf through some earlier pages of that region's history, the centuries are rich with tales of Cossack revolt and ancient river trade.
Vocalist for Nachalo Veka is Alena Sergievskaia, who has just announced the publication of a net-single, available through Kroogi. It comes with a Russian-language text that speaks again to Sergievskaia's ability to operate on both sides of a modern folk register (i.e., with pop or pathos). She tries to assuage fans worried by the possible connection between a solo project and her band's demise.
«Records have become ancient history»
«Hi! We've got some news. We continue to adore folk songs - and we'll keep singing them, too, But that's not the point of this letter... Over the time that we've been in Nachalo Veka and making records, the world has changed a lot. Records themselves have become ancient history and people no longer listen to music as albums. We've stopped doing so, too, but - all things considered - that's absolutely fine. As a result, we've prepared a 'non-album' for you. You could also consider it the first chapter of our 'non-book'! We hope you like. We do!»
The author of that genial text then signs off with the stage-name of this project - «Nikomu» - which translates into English rather oddly as «To Nobody» or «For No-One.»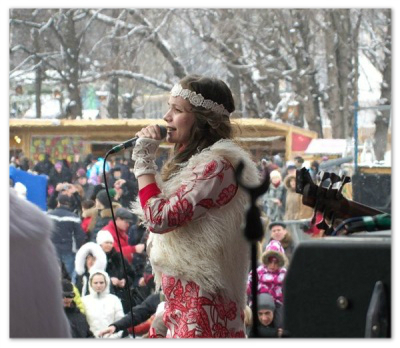 Sergievskaia, performing live with Nachalo Veka
That nod towards anonymity is reflected in other aspects of the single's PR materials, where a «liberty» from genres and physical media becomes synoymous with the loss of an (old) identity. For all these worries, though, the promise of future options also lingers in the background - sometimes. «The single really doesn't remind you of folk rock at all! On this occasion you'll take a journey [instead] across the billowing, endlessly youthful waves of disco-rock. These two songs have been richly blessed with the kind of bright, melancholy lyricism so familiar from Nachalo Veka».
There are references here to a yearning for rural culture and prior media formats, not to mention nostalgia for a slower pace of cultural «progress». Across all three realms, the passage of time reveals itself in rather disheartening ways. (...)